49th Parallel Coffee Roasters
Design Management, Packaging, Art Direction + Styling
At 49th Parallel Coffee Roasters I was tasked with planning, executing, and managing all content needs across digital and physical channels including packaging, photo/video shoots, marketing, branding, and written content. I provided design and content support to each department of the company, including Ecommerce, Marketing, Specialty Retail Grocery Stores, Cafés and the Head Office/Roastery.
The company was making a transition to a new bag style and, as part of this transition, we decided to unify all coffee bags under the brand mint color that is prevalent in our cafés. Previously, espresso and decaf varieties were packaged in bags that were two different shades of grey. This change was driven with the goal to achieve a stronger and more unified brand impact.
Recognizing that the visual cue of the bag color was being phased out, I understood that the bag labels had a greater responsibility to our customers. After consulting with our local printers, the Marketing Director, Director of Operations, and the company's President, I proposed an enhanced label design featuring increased height for better readability and more defined sections to accommodate important information about each roast.
Main St. 10th Anniversary Campaign
As part of the Main St. 10th Anniversary Campaign, my responsibility was to create a product lineup that showcased and commemorated the 10th Anniversary of our Main Street café location in Vancouver, BC. To achieve this, I worked in collaboration with my Junior Designer to craft a custom coffee bag, partnered with Mikayla Hong of Artbedo to design a limited-edition tote bag, and drew inspiration from the exterior neon signage to design and illustrate a unique mug design myself to complete the collection.
North Star Seasonal Blend Identity
The goal for the special seasonal roast releases was to generate increased buzz and excitement. For this particular release, I crafted a straightforward visual identity that was utilized across labels, on the eCommerce site, email newsletters, social media posts, and paid social advertisements.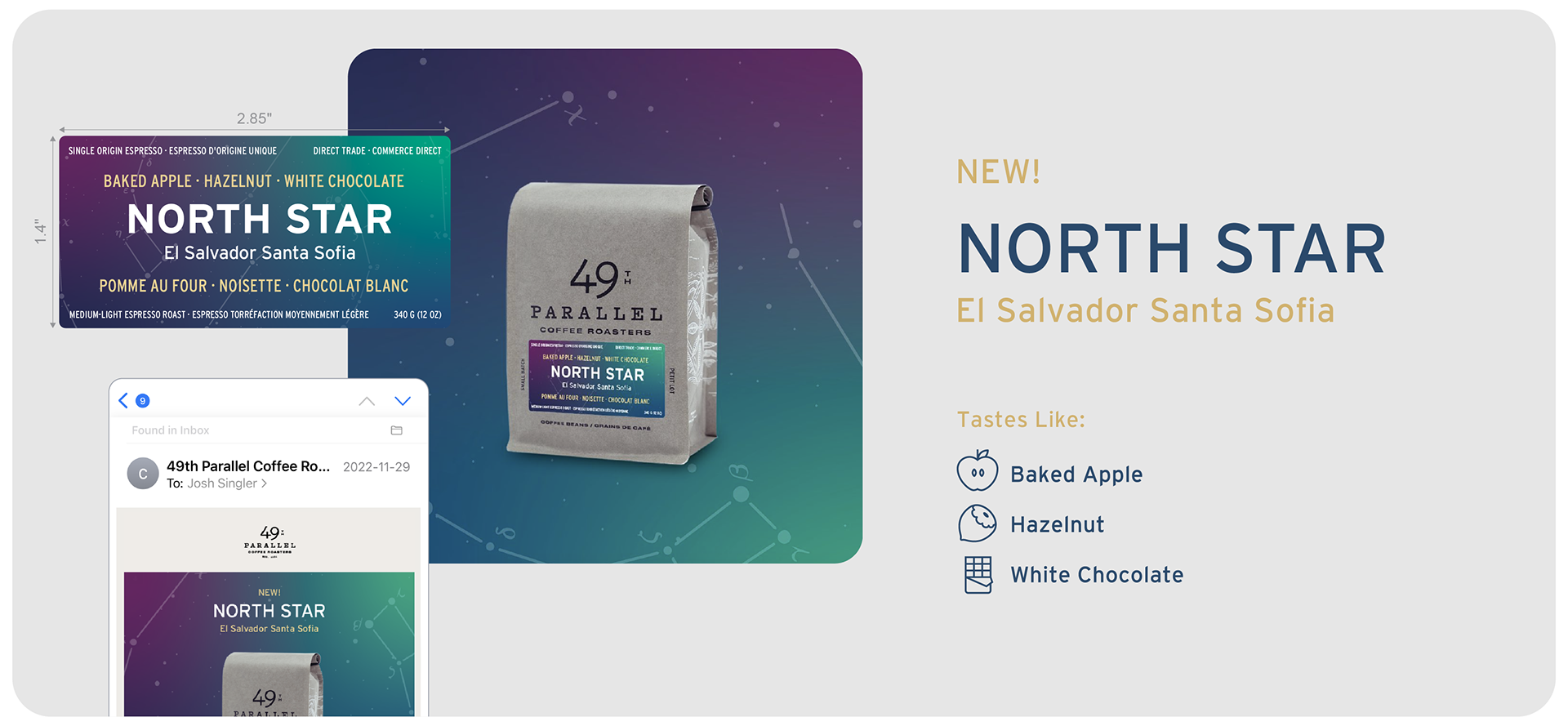 During my role as the Design + Content Manager at 49th Parallel Coffee Roasters, I created a range of email campaigns. Whether they were promotions, new releases, or educational content, my focus was on designing visually engaging and clear materials that led to higher open and click-through rates, ultimately boosting site conversions.