My passion for book design began twelve years ago in my high school yearbook class. I've been captivated by the tangible nature of books and design for print ever since. Below are seven book titles I've created, both independently and with teams. These projects reflect my dedication to crafting engaging narratives through design. Each title encapsulates a unique narrative and design concept, showcasing my enduring enthusiasm for the craft of book making and independent publishing.
The Show is Here materializes the 2020 Master of Design cohort. The discourses, final concepts, thought experiments and working processes of the students work in a way that remains true to each project. Read together they explore how design can expand our understanding of this complex world we find ourselves in, how making creates ways of thinking, through engagement with materials, techniques and ideas, and how ultimately creative exploration and imagination afford ways of thinking our world and its possibilities differently.

The Show is Here is not only a catalogue of graduate works, but also a series of propositions about where we want our world to be when the COVID-19 pandemic is over.
ISBN: 978-1-7771276-6

-4 (Spir

al Bound Book)
Editor:

 Dr. Gillian Russell


Cover Design:

 Josh Singler


Design:

 Medha Mistry


Production: Josh Singler, Medha Mistry, Damien Stonick and Jonathan Yaputra
Source: Russell, G. (2021). The Show is Here.
An Elemental Typology, 2019
Taking the scientific grid as a point of departure this typology traces the prolix potential of collapsing scientific, industrial, philosophical, spiritual and informal knowledge practices alongside images from the public domain into new mineralogical arrangements. The fictive inventory draws on real data to generate an archaeological dig across diverse geographies and histories and in the process, renders visible new architectures of time and matter. Working with four distinct and non-hierarchical categories (the songs of science, supernatural oracles, natural philosophy and the underworld), this data mining is stratified for the purposes of condensation, displacement and transformation. Ultimately, these borrowed images and the specific stories they uncover are adapted towards new crystallizations, allowing for an emergent legibility of a world beyond words where matter matters.
This project was supported by a SSHRC Internal Grant and Emily Carr University.
ISBN: 

978-0-9936283-1-3 (Paperback) 


Design: Josh Singler, Randy Lee Cutler


Cutler, R. L. (2023, September 1). An Elemental Typology (artist book).  https://randyleecutler.com/project/an-elemental-typology/
YSDN 2017 Graduate Showcase Publication, 2017
In 2017, the graduating class of the York-Sheridan Design program proudly developed a publication as part of the graduating showcase. In my role as the publication co-chair, I had the privilege of overseeing and directing this project, which beautifully documented the unique journey of each student through the YSDN program. The book launch event, held in downtown Toronto, provided a platform for showcasing the students' dedicated four years of hard work to their families, friends, and industry professionals alike.
Publication Co-Chairs:

  Josh Singler, Natalia Pushkar


Publication Manager:

Javid Aziz


Editor:

Jennifer Yoon


Account Manager:

Madison Pflance


Content Managers:

Jennifer Marshall, Zenzhu Phol


Graphic Designers:

Paola Cortez, Gunjeet Kur, Hannah Moher


Photography:  Allen Kang, Melosha Ratnasingham, Taby Petre, Patrick Descartin, Madison Pflance, Lyndsay Wybrew, Javid Aziz, 
Samantha Lee, Kelley Bates, and Christina Paik.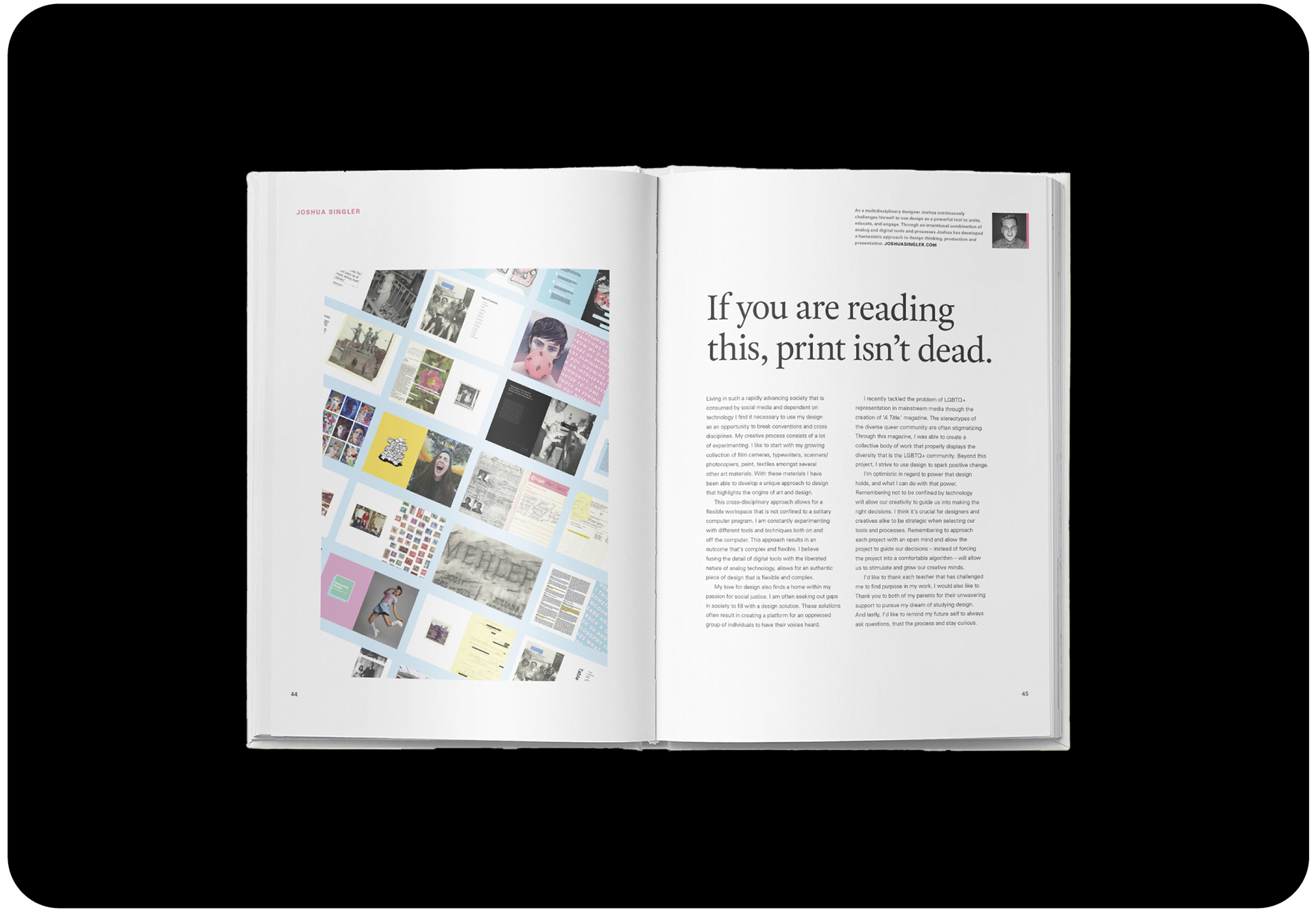 story  /  telling is the result of a year-long investigation into the evolution of storytelling. This project took form as an experiment, an adventure, and resulted in a compendium of lived experience. I conducted five unique exercises which allowed for a closer look into the unique relationship between story and the human experience.
ISBN: 

978-1-7771276-1-9
Design + Copy:

 Josh Singler


Advisor:

 Myles Bartlett
A Title. Magazine – A Kickstarter Project, 2016
A Title. Magazine emerged as a response to the noticeable absence of diverse queer representation in contemporary mainstream media. What began as a class project during my Bachelor of Design studies evolved into a tangible reality when I assembled a group of friends and launched a successful Kickstarter campaign. This collaborative endeavor came to life in late summer 2016 with a printed release of 1000 and copies were sent around the world and also available for purchase at Glad Day Bookshop in Toronto, Ontario.

137 backers pledged CA$ 6,126 to help bring this project to life on Kickstarter and it was shipped across Canada, USA, Australia, New Zealand, Taiwan, and the Netherlands
ISBN: 

978-1-7771276-0-2
Design + Distribution:

 Josh Singler


Copy + Production:

 Jasmine Douglas, Alex Jones


Photography:

 Tyler Talbot
ISBN: 

978-1-7771276-2-6


Design:

 Josh Singler
Neue Heimat is a personal response to the discovery of some family heritage artifacts. I discovered a family story that chronicles my Great Grandfather, Grandmother, Aunt and Uncle's fleet from Austria-Hungary during WWII. This personal response turned into a layered study into what home truly means, where and what it consists of, and the people and things that make it. I used my typewriter to candidly discuss my relationships with family members, and create an open stream of consciousness to better understand the topic of home. Artifacts were paired together to create an interesting juxtaposition and create question and reflection with its reader.
Loose Leaf is an experimental book design by typing personal thoughts and favourite pieces of writing onto pressed leaves with a typewriter. This book blended the mechanical durability of the typewriter with the delicate and natural quality of the leaves. It presented a range of thoughts and emotions, allowing users to read, shuffle, and rearrange them like loose leaves of paper.
ISBN:

978-1-7771276-8-8


Design: Josh

Singl

er